side scatter and back scatter ( special type of meteorscatter )

example number 1 - side scatter

for meteorscatter operation never use the direct way between two stations for the antenna direction. i describe the reason here. always use the hotbird calculated by software WSJT or with my calculator.
side scatter is, imho, using a reflection cloud far away the direct way and not using the hotbird only.
during the leonids in year 2009 i met Cedric HB9HFN in the chat-room of on4kst. the first try for a ms-qso failed, as we took the hotbird. this was nearly the same direction as the trails of leonids. the radiant just rised in the east, so the trails took the way as our direction was. after that and short thinking, we turned our antennas away each other. HB9HFN turned to north exactly, i used 297 degrees. and this was the situation.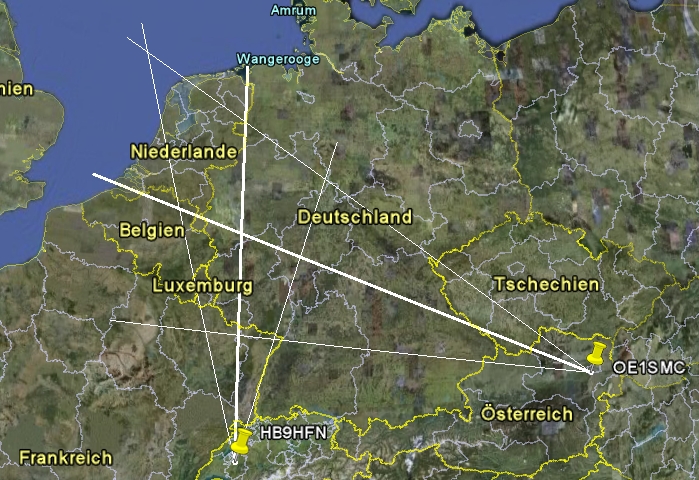 we used a reflection area of large parts over germany and netherlands. now we had run a qso fast, quick and easy.
op: HB9HFN - Cedric ( in qso with OE1SMC )
locator: JN36MS (QRB 712 km, QTF 261° direct, but not used )
date: 2009/11/17 22:55:30 UTC
software: WSJT mode: JT6M
type: meteorscatter / side scatter, band: 50 MHz / 6 m
meteor shower: leonids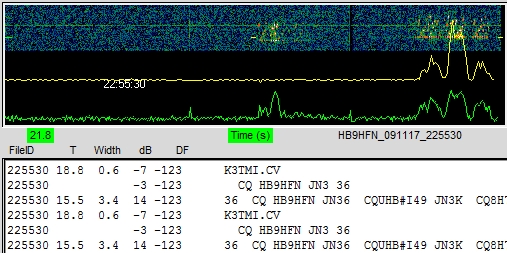 the ping in the middle part of the screen, is those of Cedric and the decoded one, the right ( bigger ) one belongs to GW6JBN.
this is the wave-file produced by software WSJT
example number 2 - back scatter

Bojan S57TW and his station is in a distance, where we can run a qso everytime. during the geminids i copied a lot of fine pings from bojan. i called him and due to the strong shower we had run a random qso very fast.

op: S57TW - Bojan ( calling CQ )
locator: JN75EX (QRB 281 km, QTF 212°)
date: 2009/12/14 21:11:00 UTC
software: WSJT mode: JT6M
type: meteorscatter / side scatter , band: 50 MHz / 6 m
meteor shower: geminids ( ZHR 120 )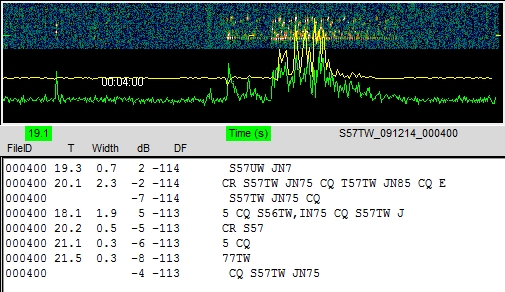 i assumed his antenna is not in my direction, as i didn't decode anything between the pings. see also: groundwave-mix. both of us were logged in at on4kst-chat. after the meteorscatter qso there was a first contact in the chat-room in this evening. i received from him a "tnx" and a "my antenna has direction 300 degrees". my antenna had 274 degrees. this was a typical back scatter qso.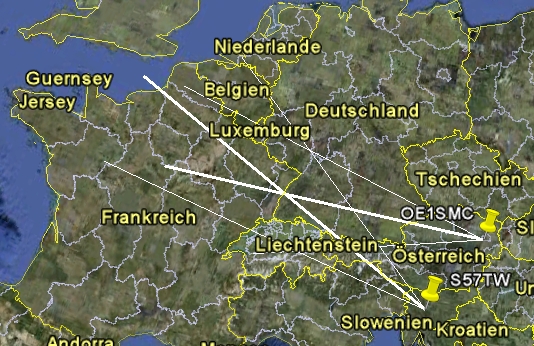 we used a reflections cloud over large parts of France, over Germany and maybe over UK.

i looked at sabines virgo sky view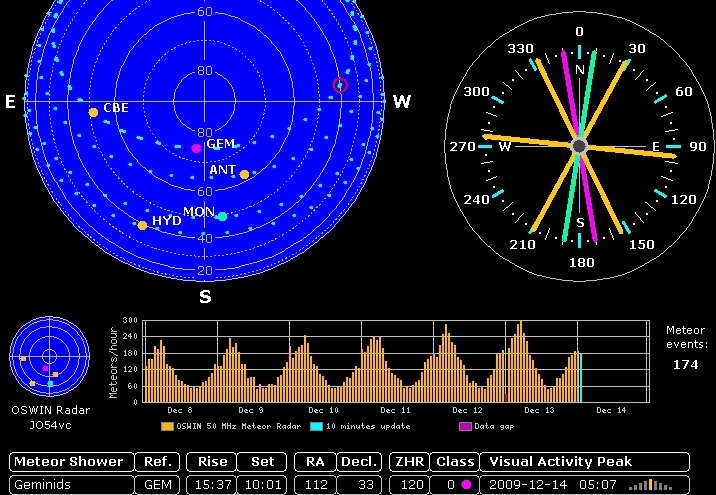 the gemids radiant was in the south near the zenith, the trails had about south-north direction. our antennas had nearly an optimum direction.
this example shows, two stations can run a regular ms-qso, even if their distance is within 400 km, which is the range of the groundwave for 6 m.
this is the wave-file produced by software WSJT
remark: the maximum was calculated for December 14 5h10m UT
next day i looked at sabines virgo sky view

the real maximum was one day earlier, in the night from 12th to 13th

oe1smc / 2009-2010